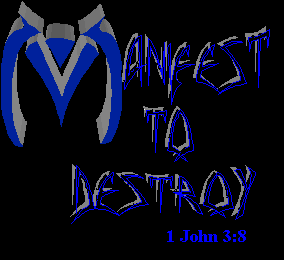 ---


Sound & Lyrics | About Us | Our Photos | Event Calendar & Links | Sign The Guest book
---
Welcome to the official Manifest to Destroy home on the web. The purpose of this information is to not only to acquaint you with the band, but with our purpose. We have heard a calling from the Most High God to use our lives to deliver His message to all those who will hear. A message of love and hope to all, who trust in Him, a message of eternal consequence's to those who turn away from His light.
Within our music and lyrics you will find praises to Jesus, as well as rebukes to the antagonist of our soul, namely Satan (the Deceiver.) 1 John 3:8 states "For this purpose the Son of God was manifested, that He might destroy the works of the devil." This is also the purpose of our lives and our music. While we battle daily with Satan and our own instincts to sin, we feel we must carry our struggle beyond these narrow borders, and also fight for the souls of those around us. God has given us our talent and his word to combat and defeat evil. This is Gods chosen purpose for the members of this band, and we embrace our task whole-heartedly. We hope and pray that all who hear God's word will turn and follow him. Amen.
---

Manifest To Destroy would love to send you our news letter. If you would like to receive this news letter which includes our shows, bible verses, or anything else we can throw in there to make it exciting please E-mail us back at and let us know. .
Sign The Guest book


View The Guest book

---
Telephone
816-741-1668
Electronic mail
Band Information: ManifesttoDestroy@kc.rr.com
---

Copyright © 2000 Manifest To Destroy
Last modified: September 06, 2002